Welcome to the St. Mark's 72nd Cub Pack.

Latest Update: Apr 25 2018

Information on Spring Registration coming SOON (April 30))

Next Meeting Next meeting - Monday April 30 @ St. Rita's
Upcoming Activities
SATURDAY April 28 - War Museum Adventure Day - 10:00 to 14:00 cost $10.


Payment due on Monday April 23rd!


Monday April 30 - Meeting @ St. Rita's - presentation on animal adoption

Monday May 7 - Bike Night @ St. Rita's

Monday May 14 - Outdoor cooking (on camp stoves)
Monday May 21 - No Cubs - victoria Day weekend
Tuesday May 22 - Swim up evening with the Beavers

May 28 - Regular Meeting @ St. Rita's
June 2-3 - Spring Camp @ Wesley Clover campground, details to follow

Monday June 4 - last meeting of the season

Links
2017-2018 Registration
Registration info is here
Fees for next year are the following


July 1 - December 31 $275 (all sections)
Jan 1 (2018) - Apr 30 $175 (all sections)

To register online

go to www.scouts.ca
click on the 'Find A Group' button
Enter postal code
Find '72nd Ottawa'
Click on 'Details' and the online registration will be available

Subsidy info - if required please read!

Please contact our Registrar if you have any questions or you need subsidy
Thank A Scouter!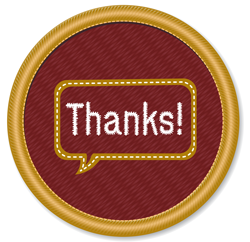 Help Wanted! -
We are always looking help within our group. We would love to have some new leaders in all our sections (Beavers, Cubs, Scouts). Our section leaders also get together the first Thursday every month for a planning meeting, and our Group Committee could also use new members. If you want to get a bit more involved, you can contact
our registrar
What are Cubs? Cubs are active youth, boys and girls, aged 8-10 years. Our Pack is lead by some terrific adult volunteers, helped by some great parents, chartered by Scouts Canada, and sponsored by St Mark's Anglican Church (for over 40 years!). We meet Monday nights, from 6:30 pm to 8:00 pm in the gym at St Rita's School, across the street from the church, near the corner of Fisher and Inverness.
What do we do? What a question! We do -- first aid, hiking, cycling, camping, paper airplanes, Grand Howls, skating, fireball, crafts, soccer, astronomy, swimming, badge work, trips, singing, orienteering, climbing, learning, visits, did I mention camping?, Kub Kars, winter activities, acting, tree planting, campfires, recycling, fund raising, ... and lots of friendship too!